The magazine "ventas de Perfumería y Cosmética", specialized in fine perfumery and cosmetics, has published an interview to Maria Celis, one of the perfumers in Ravetllat.
You can check the complete publication in the following link:
https://issuu.com/podiumglobalmedia/docs/vpc_451
At Ravetllat Aromatics, our top priority is the health, safety and well-being of our employees, customers, partners and the communities in which we operate. In these extraordinary times, we are deeply focused on ensuring the well-being of our people, while continuing to meet the needs of our customers.
Our business is considered essential during times of crisis as we are part of the food chain, as well as a critical player in public health and hygiene.
We have activated a contingency plan, whose primary focus is keeping our employees safe, our customers served and the business operating as normally as possible in these circumstances. We are implementing short- and medium-term measures to help protect our employees, following the advice of all governments and public health authorities. This include remote working, severe sanitation and cleaning protocols, workplace distancing and other measures to help ensure our production and laboratory team is kept well and safe.
We are extremely proud of and grateful to our team who come on site every day to ensure business continuity.
We are confident that we will overcome this crisis together.
One more year we are delighted to inform you that will be at Beautyworld Middle East @beautyworldmefrom April 15th to April 17th in Dubai, UAE.
Visit us at Hall 3, Stand 3E38!
Bcn Olfaction Congress
The Barcelona Olfaction Congress will take place on September 20th and 21st. T
his event is created with the main goal of giving visibility to the world of perfumes.
Ravetllat Aromatics will participate in the event, and we encourage you to join us!
https://beautyclusterbarcelona.com/es/activitat/20-21-sep-barcelona-olfaction-congress-2018/
The RAVETLLAT AROMATICS team is glad to inform you that will be exhibiting at BEAUTYWORLD MIDDLE EAST from May 8th to May 10th in Dubai. Hall: S1 Stand: B35.
Visit our stand!
RAVETLLAT WAS IN THE SOLIDARY EVENT: UNITED BY A DREAM
A solidary event was held in Berriozar, Pamplona, on 3rd February: "UNITED BY A DREAM".
t was a sporting event to raise funds for the "Cristal School Foundation", an inclusive education school in Nicaragua. Ravetllat did its bit to help with some of our products.
From here, we would like to congratulate the organizers for the money they were able to raise. For any additional support or donations, please use the following account number of the Foundation:
Caixabank ES83-2100-0768-1602-0011-8817
We inform you that Ravetllat Aromatics has just obtained Halal Assurance Certificate to produce food flavours and formulations.
This Certificate is issued by the Halal Institute in Cordoba (Spain), after severe audit to our premises and all our production process. This ensures that all our flavour range is suitable to be used in food aimed at Muslim people.
In an increasingly globalized environment, where export is a main pillar of business growing, having a certification to be able to access to other markets is essential for us. It must be noted that Muslim population in the world is estimated to grow to 1.9 billion people in 2020.
On the other side, food and beverage business aimed at Muslim people was 1.1 billion dollars in 2015.
Last 26th and 27th May we had a celebration.
We went to the L'Empordà Region, where we participated in cypress destilation. Later, we had a tasting menu at the Double Tree by Hilton Hotel& Spa Emporda.
And the next day, we had fun with different activities of "Team Building": Laser Combat and Archery game. A great celebration!
Thanks to everyone for making it possible!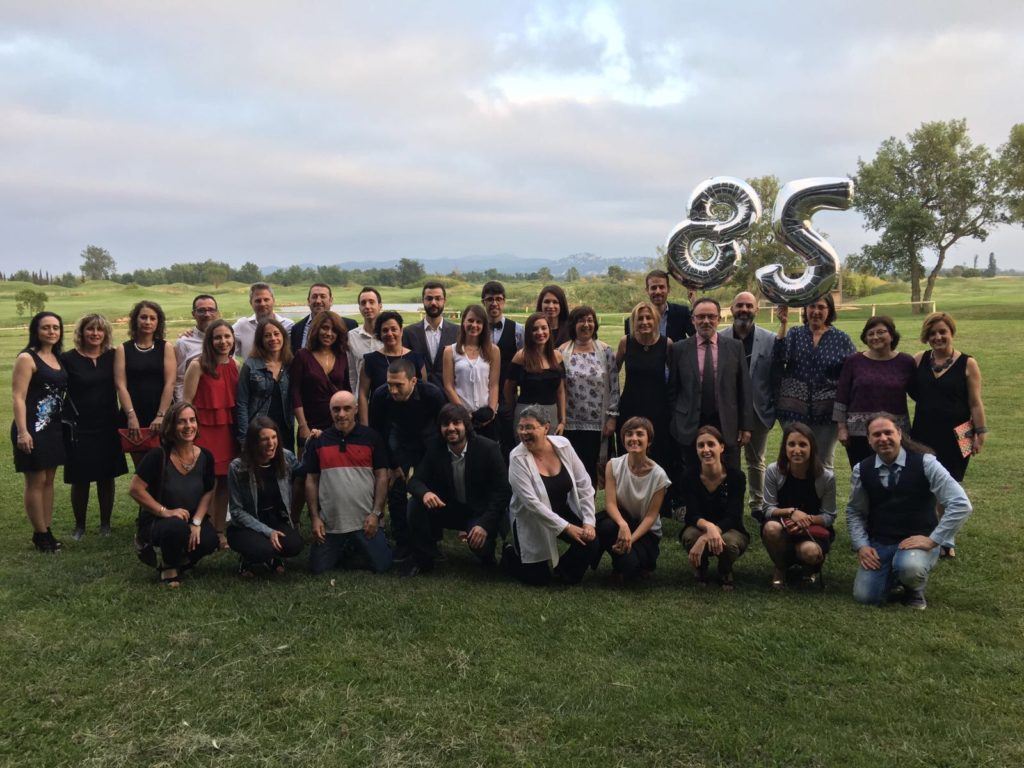 The RAVETLLAT AROMATICS team is glad to inform you that will be exhibiting at BEAUTYWORLD MIDDLE EAST from May 14th to May 16th in Dubai. We well present our new fragrance collection that will awake your senses!
We will be glad of welcoming you at our location: Hall S1 Stand C35.
Let the art inside the bottle takes you to an exotic journey throughout history!
Three years after the opening of Dubai office, RAVETLLAT AROMATICS has constituted a new company in the United Arab Emirates (UAE) and opened new office in Sharjah Airport International Free Zone Suite Z-63.
This constitution will allow us to better assist customers in the Middle East area and it means a new step in the expansion of this area.
For more information, you can contact us to middleeast@ravetllat.com; yaseen@ravetllat.com and ozainab@ravetllat.com or mobile phone +971 55 481 5232.